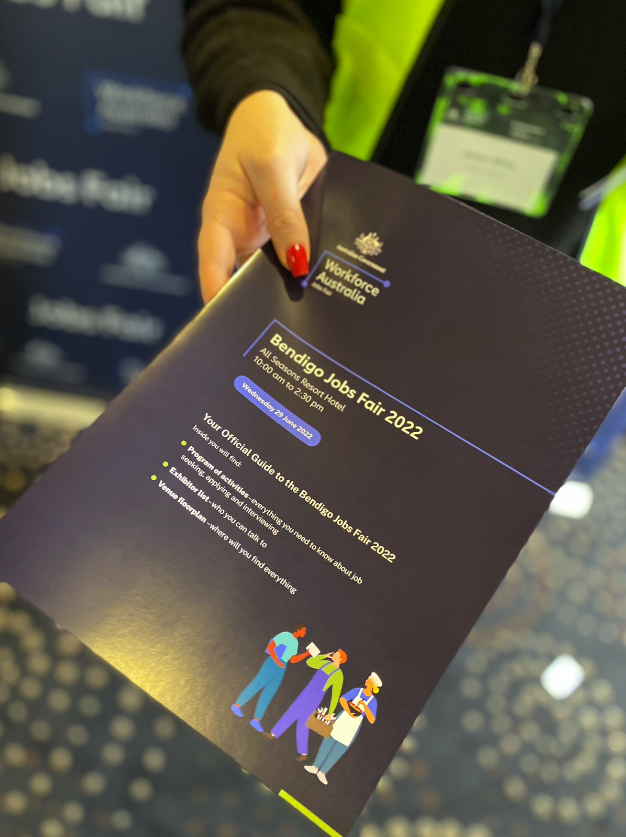 Bendigo Jobs Fair 2022
The Department of Education Skills and Employment (DESE) hosted the Bendigo Jobs Fair on Wednesday 29th June 2022 at the All-Seasons Hotel in Bendigo.
Over 400 job seekers from the region attended the jobs fair. Across the 46 exhibitors, there were over 1,000 jobs on offer.
Like our other Jobs Fairs, the job seekers were provided an array of resources including workshops, resume interviews and advice sessions, printers, and computers for them to use for free.
The Keito team loves a challenge, so we thrived with the short lead time before the fair and with the short and busy lead up to the event, successfully coordinating another jobs fair in a different state was extremely rewarding for us all.
The Keito team worked closely with DESE to ensure that all aspects of the event ran smoothly, we did that by:
// Event planning – our team ensured that all pre-event tasks were completed in a timely manner.
// Logistics – we handled all supplier arrivals and safety aspects of the event.
// Site and venue logistics–our team conducted a virtual site visit and worked closely with the venue during the planning process from interstate
// Supplier engagement – our team engaged and briefed all suppliers to ensure the relevant information was passed on to them
// Exhibitor management – we worked closely with the DESE team to contact, communicate and lock in exhibitors
// Pre-event set up – coordinated and participated in set up with the venue and suppliers
// Onsite supplier management – our team oversaw the event, worked with the suppliers to ensure all formalities occurred on time. We worked with the exhibitors during the day, ensuring that all needs were met. We monitored and managed attendee arrivals, activations and workshops.
// Assisted in the event pack-up and coordinated the suppliers and venue to ensure everyone departed safely
// Post event management – contacted all exhibitors for feedback and communicate all feedback to the DESE team
The Keito team thoroughly enjoyed working again alongside the DESE team to help deliver these very important events for communities all over Australia.