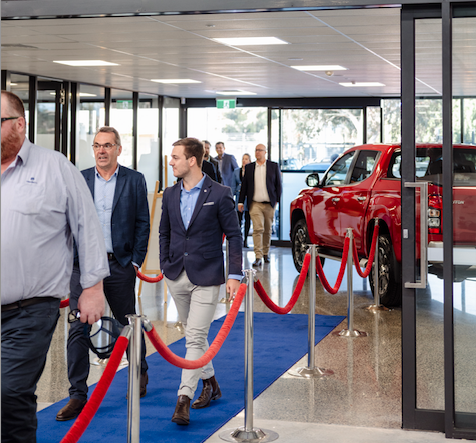 Manheim Cox Automotive Showroom Launch
The Manheim Cox Automotive Showroom Launch was held on Wednesday 4th March at Cox Automotive's new facility in Elizabeth South.
The Manheim existing clients, staff and stakeholders enjoyed a tour of the site, live music, canapés and paella and an array of beverage options throughout the afternoon.
We were joined by Glenn Docherty, the Mayor of Playford who officially opened the building, expressing excitement for the opportunities that the new facility will bring to the City of Playford.
The Keito team was engaged to assist in the planning and coordination of the event.
// We engaged with all suppliers, coordinating arrivals and collections. This included catering, AV, furniture hires and entertainment,
// We constructed a detailed run sheet which allowed the client and suppliers to know how the event will be prepared and ready throughout the day
// Created event layout and briefing documents to ensure that the event space achieved a great look and feel as it was a large open space.
// We conducted site visits with the client and suppliers to assess all venue logistics, requirements, and safety
// We managed all RSVPs from the event and made sure all attendees were up to date an d informed
// Designed all event collateral including event signage, menus, and a media wall.
// Worked closely with AV supplier to ensure all formalities ran smoothly
// Provided on site management from start to end which included ensuring the set-up ran smoothly
This was a successful event for all those involved, and we were grateful to receive positive feedback on the night.