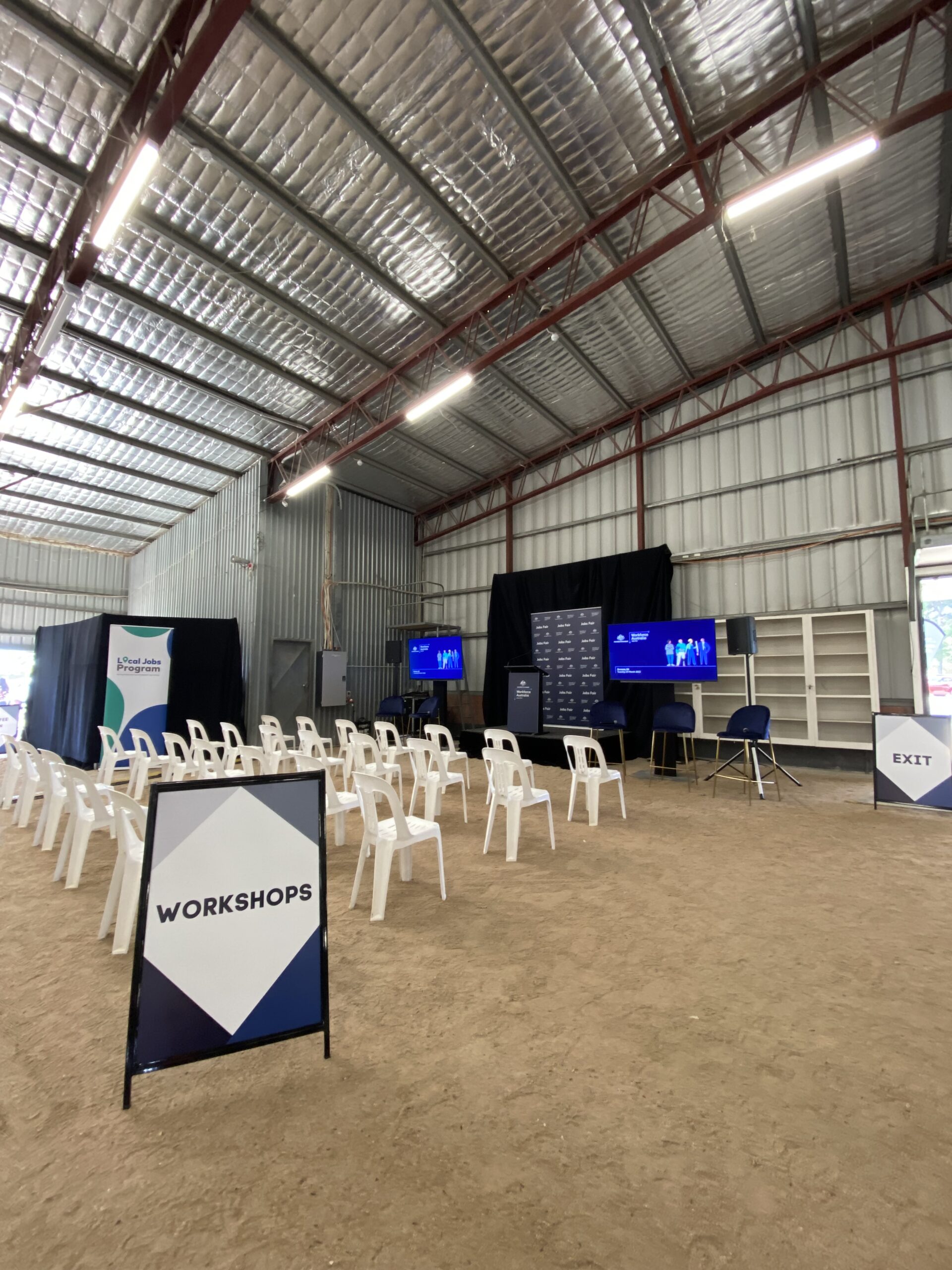 Barossa Jobs Fair 2022
The Barossa Jobs Fair was held on Tuesday 29 March at the Tanunda Show Hall.
This is our fourth Jobs Fair with the Department of Education, Skills and Employment and they've become one of our favourite events to be involved in.
The Jobs fairs include an array of activations including a Jobs Board which is the main point of call for job seekers to see what is available. They also include workshops with employers providing important insight into what employers are looking for, resumé interviews and printing resources which ensure that Job seekers are putting their best foot forward and can hand their resume in to the employers on the day.
We worked closely with the national and state teams to:
// Event planning – our team ensured that all pre-event tasks were executed in a timely manner
// Logistics – our team handled all supplier arrivals and safety precautions
// Engage and work closely with the council and venue
// Engage and work closely with suppliers for catering, coffee and drinks, audio visual and exhibition hire
// Exhibitor management – we worked closely with the DESE team to work through a list of potential exhibitors, request expression of interest, provide confirmation and direct communications with all exhibitors
// Pre-Event set up – participated in set up with venue and supplies. Coordinated their arrival and set up instructions
// Worked to and monitored event budget
// Onsite management – our team oversaw the event ensuring that all workshops worked to schedule, worked with the AV technician to troubleshoot any AV issues, worked with caterers to ensure that all food went out when planned.
// Managed attendee arrival
// Work with the DESE team to monitor all activations
// Troubleshoot and problem solve – re arranging booth numbers and putting together new booth for late registrations or late cancellations
// Provide a detailed run sheet
// Break down – assisted with the breakdown of the event and coordinated with suppliers and the venue to ensure everything ran smoothly and everyone left the event safely
// Post event management – followed up with exhibitor feedback and continued to engage with the DESE team
Hundreds of job seekers attended on the day to meet with over 40 different organisations from all different sectors.
We received an overwhelming amount of positive feedback on the day and after the event had concluded from both job seekers and providers. The jobs fairs are an overall positive and valuable experience for everyone.
We would like to thank all those involved, particularly the Department of Education, Skills and Employment national and state teams who are so great to work with and we hope to continue our great relationship long into the future!
We were lucky enough to receivea kind testimonial from the client once the event had concluded:
'Beth, Sophie, Celine & Jaz – thank you to your Keito team. As usual everything was extremely smooth, and your team always go above and beyond. I hope that we have another jobs fair scheduled for the region soon as I would love to work with you all again'