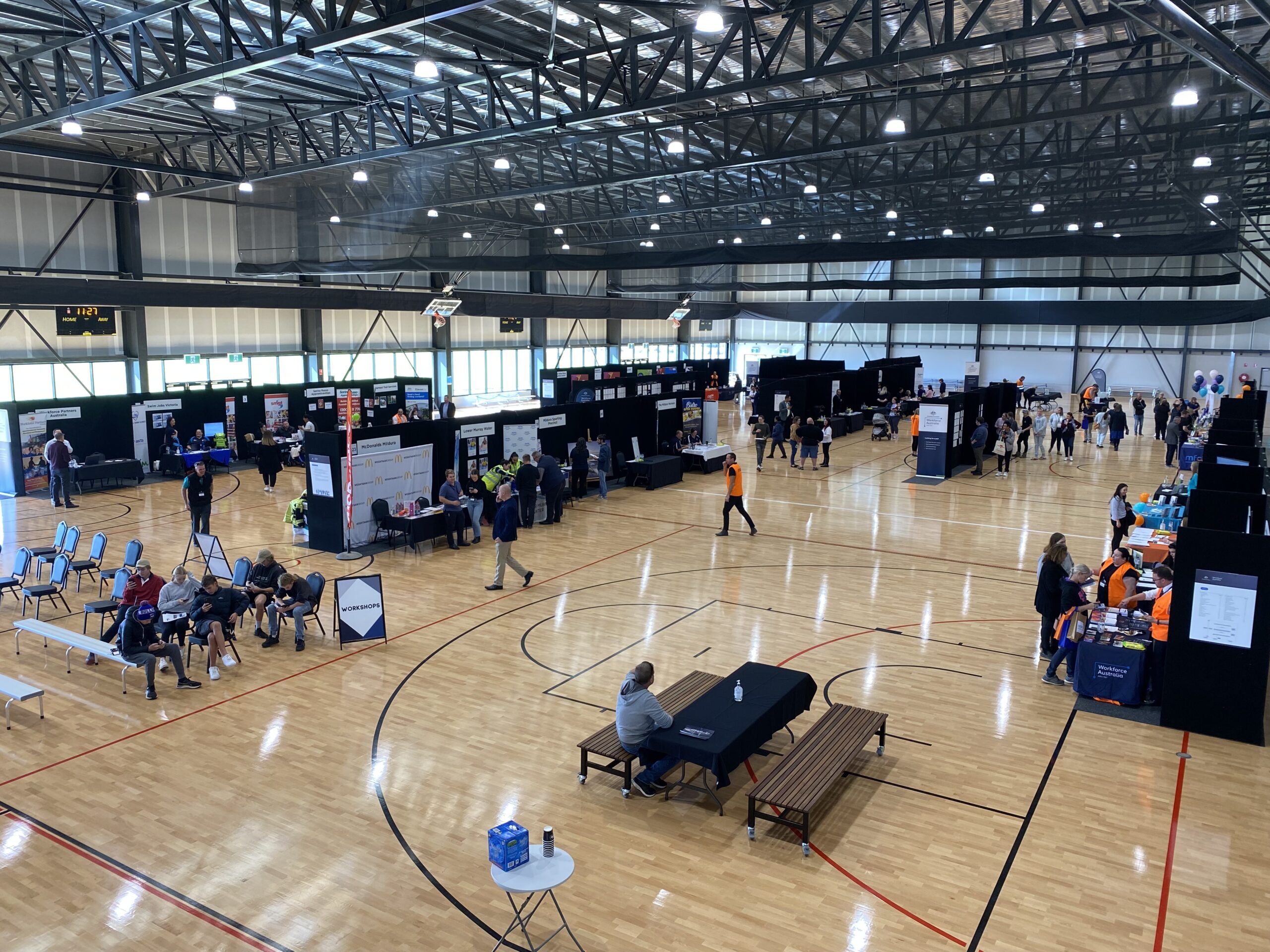 Mildura Jobs Fair 2022
The Keito team was engaged by the Department of Education, Skills, and Employment once again to assist in the Mildura Jobs Fair.
The jobs fair was held on Friday 6th May 2022 at the Mildura Sporting Precinct.
This was our sixth job fair with the DESE team, and we are so pleased to have been able to pull off yet another successful fair for the local job seekers.
Over 200 jobs seekers attended the fair, and with 44 exhibitors, they were greeted with endless job opportunities from a large variety of industries. They were provided with resume and interview services, where they could print, edit, and hand in their resume on the day to potential employers and gain advice and helpful tricks on how to improve their resume and interview skills. There was also an array of workshops which spoke on what employers are looking for, information on apprenticeships and traineeships, as well as tailored workshops for mature aged job seekers and those interested in the carer industries.
The Keito team worked to ensure that all aspects of the event ran smoothly, we did that by:
// Event planning – our team ensured that all pre-event tasks were completed in a timely manner.
// Logistics – we handled all supplier arrivals and safety aspects of the event.
// Site and venue logistics – our team conducted a site visit and worked closely with the venue to ensure that all needs for the event were met prior to the event and on the event day.
// Supplier engagements – our team worked closely with venue staff, catering, audio visual and exhibition hire to ensure that all suppliers had the relevant information and were briefed effectively prior to the event day.
// Exhibitor management – we worked closely with the DESE team to work through a list of potential exhibitors, request expression of interests and provide direct communications and confirmations with all exhibitors.
// Pre-event set up – coordinated and participated in set up with the venue and all suppliers by providing them with arrival and set up instructions.
// Onsite supplier management – our team oversaw the event, worked with the audio-visual technician to troubleshoot any issues, worked with caterers to ensure that all food was prepared and distributed when planned.
// Onsite exhibitor management – we worked with the exhibitors throughout the event, ensuring that all their needs were met and troubleshooted any issues that they ran into throughout the day.
// Onsite event management – our team monitored and managed attendee arrivals, monitored activations and workshops, and problem solved when necessary.
// Post event pack down – assisted in the breakdown of the event and coordinated with suppliers and the venue to ensure everyone left the event successfully.
// Post event management – we followed up with all exhibitors to obtain feedback on the event to determine the success of the fair and make any necessary changes for the next one. We continue to engage with the DESE team and communicate all feedback to them.
The Mildura Jobs Fair was the Keito teams first time travelling interstate for an event since COVID, and we are thankful to the DESE team for working with us again to pull off another successful jobs fair.