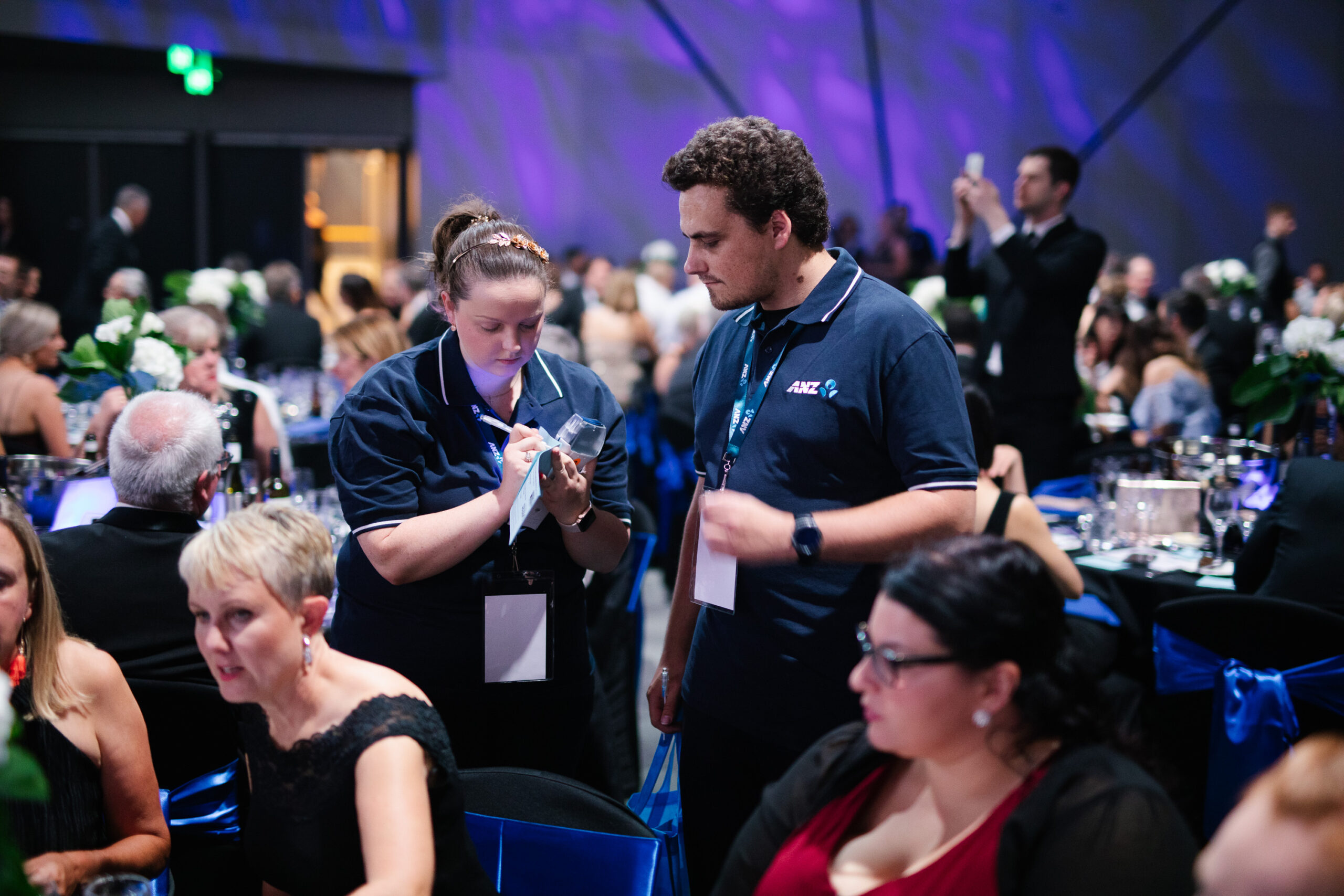 Celebrating our event volunteers
and 5 steps to getting the most out of your volunteer staff
This week, Australia celebrates National Volunteer Week, recognising and thanking the six million Australians who give their time, expertise and passion to those who need it.
Here at Keito Events, we often rely on the generosity of volunteers to lend a hand when ours are full. Event volunteers can fill any number of roles at an event. They could be greeting guests, assisting at registration tables, setting up banners or marquees, boosting fundraising efforts, handing out freebies, promoting brands, keeping things tidy or even running fast-paced live auctions (shoutout to our ANZ Ball volunteers!). 
Running an event often requires a large workforce to ensure things go off without a hitch, and we're extremely grateful for event volunteers who provide much needed support, manpower and passion. Keito would like to thank all the volunteers who've assisted our team in the past, and we're looking forward to all the volunteers we're yet to meet. 
But whilst the benefits of engaging a team of volunteers are many, the task of recruiting and managing event volunteers can be a daunting one. Where do I start? How do I know they'll be reliable? How much will I have to train them? What if they just don't show up? Is it even worth it? 
A good volunteer team can be the difference between an event that flops and an event that hits all its targets. So yes, working with volunteers can absolutely be worth it, but only if you are willing to invest time in training and supporting them. Here are our tips on getting the most out of your volunteer event staff: 
1. Identify what roles you'll be needing volunteers to fill
Before you even think to start looking for volunteers identify and outline exactly what you'll be needing them for. Will you need volunteers to run the raffle? What about to show guests to their tables? Who will be handing out promo flyers at the event? If it's a task that you will be too busy to tend to, consider whether or not a volunteer could do it. 
For each task you identify, write down a detailed list of the skills and manpower needed to carry it out. Be especially mindful of jobs that will require heavy lifting, government certified training or an adept understanding of technology. Remember, not all jobs are suitable for all volunteers. 
2. Be strategic with your volunteer callout
Once you have a detailed description of the roles you'll be needing volunteers for, consider where you might find the right participants. There are a variety of channels you can go through when sourcing event volunteers, such as past attendees, students, interest groups, online communities, or, if applicable, your client's employees. Make sure you understand what would motivate these people to give up their time for your event. For example, students might be looking for work experience, employees might see it as an opportunity to network, and past attendees might simply want to share their passion for the event or cause. 
We recommend asking potential volunteers to fill out an application form detailing their availability, skills and interests, so you can match each applicant to a role that suits them best. 
3. Invest ample time in training your volunteers
There's no doubt that recruiting and training your event volunteers will require a huge investment on your half, but the better you prepare them for their roles, the better they'll be able to perform. Remember that detailed list you wrote down earlier? Go through each item and make sure all your volunteers feel confident with their roles and responsibilities. 
If possible, we recommend tasking one person from the event organising committee with volunteer coordination. This person will be the go to contact for volunteers both in the lead up to, and on the day of the event. It may also be a good idea to put to gather quick cheat sheets for each volunteer role, just incase volunteers need a refresher on the fly. It will take more than a one hour workshop, but if it means you'll have less mistakes to fix on the day, it will be worth it. 
4. Have a volunteer plan for event day
When the day of the event rolls around, make sure you set aside enough time to get your volunteers onsite and ready to go. Have a list of all your volunteers and what they'll be doing, so that when they arrive, you'll know exactly what to do with them. Events can be a lot of work so make sure you have a volunteer rest area set aside, stocked with food and water so your volunteers can maintain their energy throughout the day. Continuing this point, make sure every volunteer takes scheduled breaks and doesn't become overworked.
It's also a good idea to gather your volunteer team together and give them one final pep talk before the event begins. Give them a quick tour of the event site so they know what's going on, answer any final questions they may have and get them excited about the event and what it aims to do. 
5. Show your appreciation
At the end of the day, event volunteers are giving up their time for no monetary benefit, in order to help you get your event over the line. As you rush about behind the scenes making sure things run smoothly, remember that your volunteers are there because they want to help. 
Take the time to acknowledge them and thank them for their time and efforts. Whether you mention them in a speech, shout them lunch after the event, or simply write them a thank you note, showing gratitude is a good way to ensure you have volunteers willing to step up for your next event. 
Working with event volunteers can give your event the boost it needs to reach its goals. By taking time to support the people who will support you, you can walk into your event knowing you are backed by a team that are ready for the challenges that lie ahead. 
If you want an even greater insight into managing event volunteers, join Australia's volunteer force and put your hand up for an event. Go to govolunteer.com.au or volunteer.com.au to find an opportunity that aligns with your values. You'll be able to learn what works and what doesn't, all whilst supporting a cause you love. 
For help managing volunteers at your next event, get in touch with our team at events@keito.com.au.